Inspiring South Australian Women Award 2021 Recipient
Dawn Jennings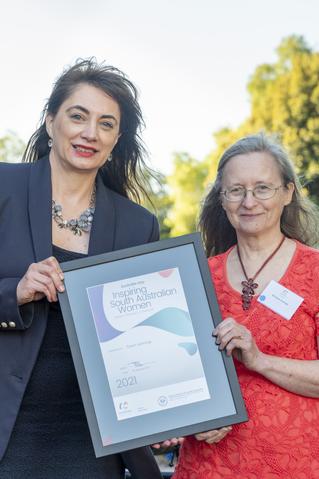 Dawn Jennings is a compassionate, devoted and selfless carer who has fostered children since the early 1990's – providing all of these children with a safe and nurtured start in life all while raising children of her own.
Parents understand the complex yet rewarding privilege it is to raise children and Dawn has lived this experience 91 times within the fostering environment. She has safeguarded young children until permanent homing solutions were discovered and secured. Dawn opened her home and heart to support and guide these children in their very early years. When asked to describe Dawn many have used the following terms and phrases; inspiring, selfless, humble, strong, a loving woman and someone who is undeniably deserving of recognition for her incredible impact within the community.
Inspiring South Australian Women Award 2021 – Dual Emerging Leader Recipients
Laura Campbell and Caylin Bristow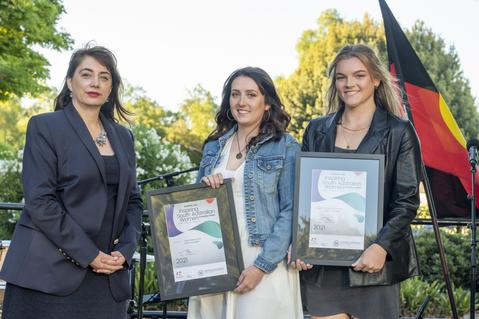 For women only in their early twenties, Laura and Caylin are exemplary role models within their local and community. Their recognised mentoring and leadership skills has resulted in both these young women becoming Directors at the Christies Beach Surf Lifesaving Club.
Engaging both Laura and Caylin in directorship roles within this surf lifesaving club has been a positive experience benefitting the wider community. It has enabled the club to address and work through bullying, body shaming and social exclusion issues experienced by many young people on a regular basis.   Laura and Caylin have helped to foster a culture of inclusivity and acceptance as well welcoming for all young people.  Both Laura and Caylin have created the successfully embraced initiative "surf sisters" camp.  This initiative promotes a safe environment for young females to build self-esteem and a sense of belonging in a male dominated environment. Laura and Caylin are two admirable young women who are passionate about enhancing unity and encouraging diversity across the wider community.
Inspiring South Australian Women Award 2021 – Commendation Emerging Leader
Kaitlin Purcell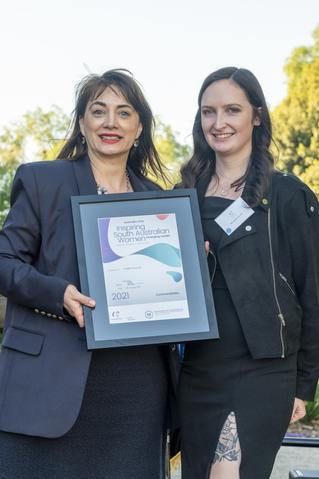 Kaitlin has supported the introduction of women's football across many regional communities as well as inspire many to connect with this code. Kaitlin established the second league to exist under the Great Southern Football League for females and received 2018 Female Coach of South Australia from North Adelaide Football Club. Her passion and commitment to the sporting industry is demonstrated through her multiple volunteering roles including the role of sports trainer for the Australian Combined Emergency Services, the Australian Police Football Association and committee member for the far North Football League. In this league, Kaitlin commenced and coached the junior girls football teams. Her work in supporting the community is further highlighted through her ambassadorial role for Around the Camp Fire, a not-for-profit sporting organisation with an aim to promote reconciliation and encourage diversity on the sporting field. Kaitlin is an inspiring pioneer for young females across the whole State, through her hardwork and determination she has helped to remove barriers as well as motivate younger generations to pursue their true passions.